The Championship (2004)
Social Drama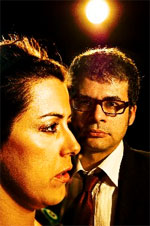 1 man, 1 woman
Awarded with National Prize for New Playwrights by the Ministry of Culture, 2004.  Translated in English (by Penny Fylaktaki) and in Spanish (by Maria Palaiologou). Published in English in the American Theatre Journal The Mercurian: A Theatrical Translation Review (Vol.4, No.2, 2013).
2005: "Playroom" Theatre Group, Experimental Stage of the National Theatre of Greece, Athens.
2008: Ouga Klara Artists Group, Thessaloniki.
2009: Tristan Bates Theatre, Covent Garden, Contemporary Greek Play Readings Festival, London.
The Story: In the Championship two actors play four characters.  A Man and a Woman meet at a hotel room.  Their goal is to catch in the red their spouses who are having an affair and have been meeting in that hotel room on a particular day every week for an entire year.  Most of all, they wish to discover why their 'other half' was unfaithful.  While the two are waiting for the 'adulterers' and come up with various plans of surprising them, the family life of both couples unravels through flash-backs.  The unfaithful couple arrives but only to break up, and our heroes watch the entire breaking-up scene from their hiding place unable to put into practice any of their ambitious plans of revenge.  When their spouses leave the room, they come out of their hiding place realizing that knowing the truth does not help unless you know what to do with it.